Every year, the NHL playoffs bring me such delight. And every year, there's one little thing that diminishes that delight ever so slightly, like a pebble in my shoe.
That thing is a man. That man's name is Keith Jones.
Keith Jones is a hockey commentator who's worked at NBCSN since 2005. These days, he is consulted between periods of almost every game for 2-4 minutes of hockey insight. Keith Jones struggles to provide hockey insight. What Keith Jones provides, instead, are mostly rambling sentences replete with the obvious and unnecessary. Keith Jones' superpower is to speak at length without saying anything.
To be sure, this is an affliction experienced by all the major sports. From his promiscuous tendency to call every last thing "unbelievable," to the vacuous observations that amount to "that was a tough shot" or "you win by scoring more points," sports are no temple of wordcraft. We've largely accepted this: the personages of pro sports — athletes; executives; commentators; ahem, writers — are mostly saying nothing. Most dialogue in and about sports is contentless, illuminating nothing about strategy, the business, or even someone's personal character.
We're OK with this. In fact, when we flame guys like Marshawn Lynch and Russell Westbrook for spurning the media, we effectively endorse it — we effectively say we'd rather have them spouting off quotes flatter than a two-day-old can of soda. Screw authenticity. Fill my airtime.
Keith Jones is hockey's incarnation of this tradition. To wit, here's what Keith Jones said last week between periods of a knife-fight of a hockey game between the Anaheim Ducks and the Chicago Blackhawks:
…he does a terrific job of getting pucks to the blue paint, it's obviously been Anaheim's game plan throughout this one and Perry does it better than most. He picks up a goal in the game so he has to be feeling pretty good about himself, and that's not great news for the Blackhawks moving forward.
Yes, Corey Perry was 10th in the NHL in goals this year, which is better than most. Yes, scoring a goal probably makes him feel quite good. Yes, I'd call that bad news for his opponent.
Here's another dandy from the day before, when the Tampa Bay Lightning played the New York Rangers:
Henrik Lundqvist is the reason why the Rangers are sitting where they are, and his teammates backed up some strong play for their goalie. Rangers get to their game finally in that period, it's Kreider with the goal, then Nash with a goal on the broken line change for Alain Vigneault. Good job in front of the net, then Yandle shoots it and it goes off the shinpad of Victor Hedman.
I've applied punctuation in an attempt to discern a sentence or even an idea, but obviously, on the air this was just a free-flow of ideas unburdened by grammar or order. A bunch of players did a bunch of things. Keith Jones is tricky, because he uses tones that makes it sound like he's answering a question – tightly, substantively, within his 45-second sound bite. But if you listen to the words, ain't nothing there.
Keith Jones will leave your inner hockey fan bored. He will leave your inner writer dazed. He will leave your inner New Yorker livid. Perhaps I shouldn't be so surprised. Keith Jones rambled even when he titled his book. Jonesy: Put Down Your Head and Skate: The Improbable Career of Keith Jones managed to slip two colons by the publisher somehow.
Keith Jones' career was a bit improbable. He put up a very respectable 117 goals in his 491 NHL games — in the clutch-and-grab game of the 1990s, no less. His skill set was nothing elite, but because of his size (6′, 200 lbs), he saw ice time with some of the NHL's legends, guys like Peter Forsberg and Eric Lindros. It always helps to have a cannonball out there.
I remember enjoying Keith Jones' game as a kid, just because it was so linear. Up and down the ice he'd go, always straight toward the net — "crashing the net" as we hockey folks say. If I had to put it in punctuation terms, I'd probably say his game was a colon after a colon.
But as a commentator? Listen. When you watch a thrilling period of playoff hockey, and your blood is calming down after that first commercial break, hearing Jonesy is pure non sequitur. It's like watching the moon landing live on TV, then flashing to Gallagher for his analysis.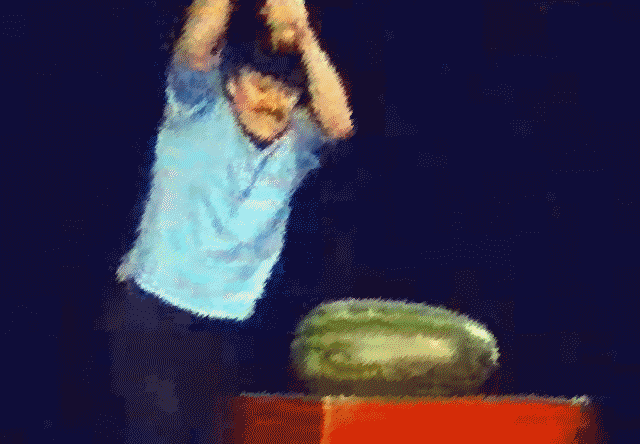 It's just goofy, is all.
Now, a confession. Over the years, I've more or less come to peace with Keith Jones. I have no personal animus toward him. Rather, I think he stands in for the state of hockey in the US today: kind of dopey, taking itself more seriously than anyone else does, and ultimately quite harmless. He helps NBC kill 15 minutes between each period of hockey, which it's desperate to do, since the assumption is you would hate to learn anything about hockey. At a higher level, he represents the prevalence of blather in sports and our wider culture.
Why do I consider Keith Jones a liability? It's not because he's hurting anybody. The reason is something deeper, something perverse.
I think I love to hate Keith Jones. I think I love the way it animates me. I think I love how hilarious and completely excessive that is, not to mention pointless.
Isn't that, in the end, really what sports are about — a way to feel animated in our otherwise banal, middle-class lives? Wait. Did I accidentally say something insightful?
---

SAQIB RAHIM | @SaqibSansU
Like many fans, Saqib Rahim is the product of his sports traumas. The 49ers losing, year after year, to Green Bay in the late 1990s. USA Hockey losing to Canada in the gold medal game of the 2010 Olympics in Vancouver – in overtime, no less. The San Jose Sharks perennially discovering new depths of failure, such as becoming only the 4th team in history to choke away a 3-0 series lead. But it's all good. He's over it. They helped make him the man he is today, and they made him curious about why sports are so engrossing and important to us. They helped him realize that sports are about the stories we tell ourselves about who we are.