There is a right way and a wrong way to do a hockey playoff beard.
HERE'S THE RIGHT WAY: In April, right before the playoffs, you shave clean — I'm talking Bieber clean. Then win a bunch of playoff games (try to get to 16). If you keep winning, don't shave, because the beard might be why.
If you're doing it right, you've still got a beard in June. The bigger, bushier, and scragglier, the closer you are to the champagne taste of that big ol', shiny Cup.
HERE'S THE WRONG WAY: Although the NHL playoffs began last week, and no series has advanced beyond three games, some very counter-cultural, IPA-drinking, and forest-oriented dudes are bringing their pre-grown beards to the playoffs!? Is this the lumbersexual thing they're talking about? What kombucha salesman told you this was okay?
No, dudes. No. For so many reasons.
Joe Thornton, San Jose Sharks
The hockey gods do not take kindly to mockery, Joe. What do you call this? The last time you were in the playoffs, you were the captain of a team that executed one of the biggest choke jobs in sports history. Your name and your doleful face — so doleful! — have become the embodiment of hockey futility, respects to Alex Ovechkin.
Oh sure, don't listen to me. You're up 2-0 on the LA Kings, the most wretched bunch of lunkheads west of the 5 Highway. You must think you've got some X-Men magic in that white stripe of yours. Well, you were up 3-0 last time! If you can't pull this off, Joe, it's because you've damned us. You've damned us all. (Editor's Note: Saqib is a Sharks fan, obviously.)
Patrick Eaves, Dallas Stars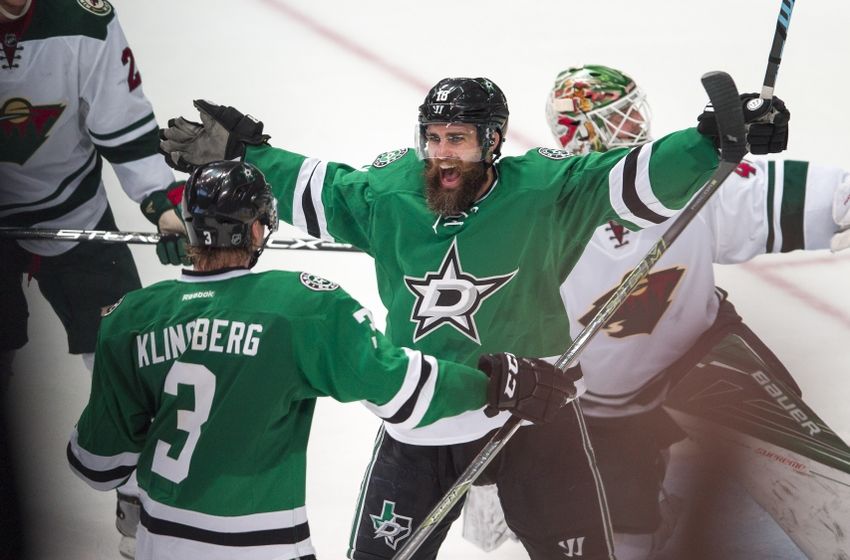 So innocent. So free. You've got a goal and your team's wiping the floor with the Minnesota Wild. Your team's offensive weapons — Jamie Benn, Tyler Seguin, Jason Spezza, Patrick Sharp — look unstoppable. Minny will be lucky to avoid a sweep.
So you thought, why not? I'll just go ahead and grow a little June number right here.
Nobody's thinking about that janky little job you've got in net: Kari Lehtonen and Antti Niemi. Nobody but me.
Oh, and the Dallas Stars haven't won a playoff series since 2008.
Dallas, I can't wait until you meet a battle-tested, grumpy, fully staffed playoff team…and it wipes that smug little beard off your face.
Jakub Voracek, Philadelphia Flyers
This is cute, but it's wrong.
The Flyers squeaked into the playoffs like a kid cramming for a big test, going 6-3-1 in the last ten games of the season. Problem is, they drew the Washington Capitals, who had the best record in the NHL this year and are in a surly mood after years of playoff collapses.
Philly hung in there for Game 1, and the Caps looked tentative in a narrow, 2-0 win. But then came Game 2. The Caps whipped the puck around with efficiency and flair. Flyers goalie Steve Mason let in one of the most unfortunate stinkers of all time.
Final score: 4-1 Caps. Now, as the series moves to Philly, the Capitals have shaken out some of their jitters. If they get going…well, the Flyers are the tweety bird in front of that steamroller.
That's a June beard you're wearing there, Jakub. It will look out of place on the golf green.
Ryan Ellis, Nashville Predators
Ryan, I want to be supportive. You had a fine performance in Game 1, with an assist and a butt save against the Anaheim Ducks (the most wretched bunch of lunkheads east of the 5). Everybody knows you've got a nice little team in music country: some scoring, the biggest point shot in the league (Shea Weber, 20 goals!), and a coach who's won the Cup before. And the Ducks are scary, and no one likes them. Thank you, in advance, for any misery you cause.
However, we need to talk about your face-fro.
Nashville has never been past the second round. The 2-0 series advantage you have on Anaheim right now? It's the first time your franchise has ever been up 2-0.
Your goalie's alright, but he was a second-team all-star six years ago. Ryan Johansen and Mike Ribeiro is a not-bad combo at center, but you're up against the best: Ryan Getzlaf and Ryan Kesler.
Say you can defeat the Ducks. (We all want this for you, Ryan! Why is everybody named Ryan?) You will then have to face the rest of the West, a mix of Cup champs (Kings, Hawks), embittered non-champs (Sharks, Blues), and scary upstarts (Stars).
Of course you can grow into that beard this playoff season, as a boy might grow into his father's pants. But only if you can hang with the best. It's mid-April, my dude. Slow your roll.
---
SAQIB RAHIM | @SaqibSansU
Like many fans, Saqib Rahim is the product of his sports traumas. Saqib was a 2015 Dat Winning Fellow.